Maintenance Tips to Prolong the Life of your Roof Rack
Roof racks are a great investment for car owners and tradesmen. While pre-fabricated racks are also functional, there's greater potential for opting for bespoke bars. With custom built roof racks, you can get an end-result that's specifically designed for your needs.
At Great Racks, we fabricate your roof rack according to your specifications. Highly durable, our roof racks are made to last. While aluminium requires little maintenance, there are still some things you can do to add more years to its life. So, we've prepared a list of tips on how you can take care of your roof rack and prolong its lifespan.
Cleaning
It is true that aluminium is a material that requires minimal to zero maintenance. However, cleaning it from time to time can help keep its good look and also prevent corrosion. Since it has a smooth finish, cleaning this accessory is easy and simple. All you need is a clean cloth and warm, soapy water. The other option is using just water along with an eco-friendly micro-fibre cloth. It is advisable to do this fortnightly or once a month.
Inspection
At least once a month, you should check your roof rack and review signs of wear and tear. If there are areas that are loose and damaged, you might want to have them repaired or replaced. Otherwise, you might cause accidents on the road and harm other people and yourself.
Polish
It would also pay if you can polish your roof rack from time to time. Use a polishing agent that is specifically designed for aluminium materials. In this way, you can keep your roof rack's shine and at the same time, you can add a protective layer around it.
Handling Tips for your Roof Rack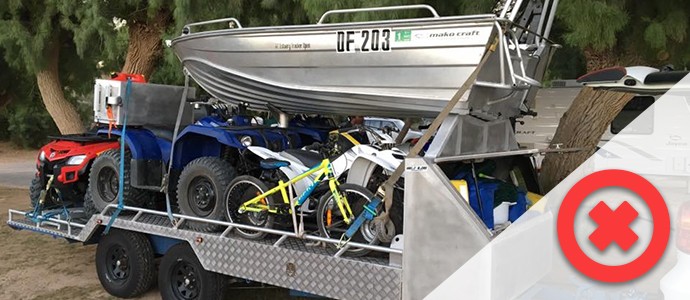 Aside from conducting some maintenance procedures, you can also follow our handling tips to keep your roof rack in good condition for a long time. The following tips will help you avoid damaging your vehicle and causing harm to yourself and other people on the road.
Don't Overload
You have to know the capacity of your roof rack and your vehicle. Here at Great Racks, we fabricate roof racks to be durable and strong enough to carry a significant amount of vertical pressure. On the other hand, if you keep overloading your roof rack, you might cause structural damage to your vehicle. If worse comes to worst, your roof rack might fly off your car and cause an accident on the road.
Properly Secure the Load
Wind resistance is one of the main issues that people with roof racks encounter. To avoid this, make sure that you properly load the roof rack and properly secure your equipment. Moreover, never forget to use a tie to secure your load onto your car.
Always be Mindful
When you are driving with items on your roof rack, always make sure that you are aware of your load. Remember this especially when you are encountering areas with low roofs. So, before you go through areas with height levels that appear low, get off your vehicle and check if you can pass through.
Generally speaking, maintaining a roof rack is easy, especially when you have it custom built by Great Racks. Our team use durable and quality aluminium materials in fabricating roof racks. This also means that they are designed to withstand the harsh Australian conditions.
Roof Racks Explained
Perhaps you came across this article because you've been contemplating about getting a roof rack. Well, you've come to the right place! Let us give you an idea of how useful a roof rack can be.
You can use them for virtually anything! Roof racks are especially handy for tradesmen who carry bulky items like ladders. Having a roof rack above their utility vehicle allows them to free up some interior space. This allows them to store other essential equipment and tools inside their vehicle.
As a tradesman, you can even ask an aluminium fabrication specialist to custom design and build your roof rack for you. You can add a Y or H bar for a more efficient way of securing your bulky equipment and even timber. If you love going on water adventures, you can have a roof rack installed so you can securely transport your dinghy, kayak or surfboards.
On the other hand, roof racks are not only for tradesmen and outdoor adventure enthusiasts. These functional vehicle accessories are also ideal for families. You can have roof racks fitted to your Hilux or wagon and add significant versatility and practicality to your vehicle. If you have a big family, travelling can be a pain when you don't have enough space for all your stuff. A custom-built roof rack can securely carry your luggage, baby equipment, bikes and other items that may take up so much of your interior space.
Whether you need to transport a dinghy, a surfboard or a ladder, your roof rack can handle it. There are also other scenarios where a roof bar can be handy. For instance, if you want to shop for furniture, you can transport that furniture using your own car. If you need to get rid of bulky items like mattresses, you can do so with the help of a roof rack. This eliminates the need to hire a man-with-a-van service. As you can see, having a roof rack installed allows you to carry more items and get more space inside the cabin.
If you want a custom roof rack that will suit your specific storage needs for your vehicle, contact Great Racks today. Our friendly staff will be more than happy to provide you with an ideal solution.