The Great Debate: Tray vs Tub vs Tool box? Which is Better for Keeping Your Tools?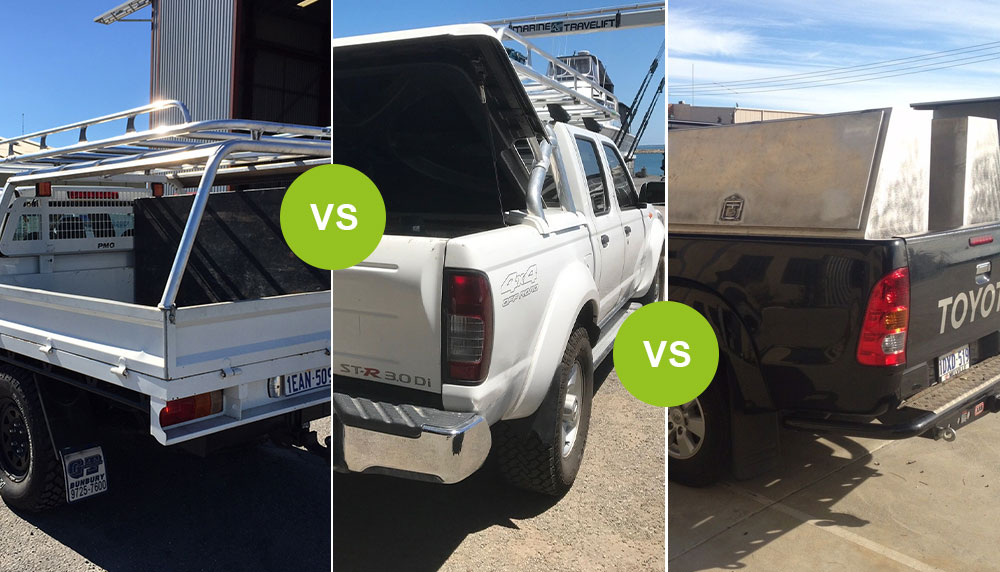 Nothing sparks more of a divide than the age-old topic of ute cargo tubs vs trays. Of course, when you bring ute toolboxes into the mix, it becomes even harder to make a decision. After all, all three of these options come with their own pros and cons. Depending on the nature of your job, you might find one option more suitable than another.
Struggling to decide whether a ute tray, tub or toolbox is better for keeping your tools and equipment? In this post, we've broken down all three options and discussed the benefits of each:
Tubs
You'll find that most utes come standard with a tub from the vehicle manufacturer. For that reason, a lot of drivers remain unaware that you can replace your ute tub with another option. Ute tubs (or well bodies as they are also referred to) are deeper than trays with much taller sidewalls. This makes them ideal for carrying taller items and loose materials; the only problem is that without specific compartments, carrying loose items in the back of your tub can sometimes feel like you're dealing with a disorganised toybox. On the other hand, you can find some ute models featuring tubs which contain nifty storage drawers with compartments. All in all, a tub is an attractive choice which enhances the visual appeal of your vehicle. They can also be fitted with canopies to increase your storage options. Better yet, add a roof rack and you've got even more options!
Trays
A lot of ute owners choose to upgrade to trays because they're a lot more versatile. Tray size will depend on whether you have a single, space or dual cab ute with single cab utes being the most popular work horses. So, depending on the tools, equipment and materials you need to transport, you will be able to pick and choose an option that works for your specific requirements. Trays are also known to be a lot more durable and easier to load up with 3 drop sides to choose from. So, if you are transporting large, heavy or rigid items on a regular basis, this is something you'd want to consider. Finally, trays feature a lot more tie down points than tubs do, meaning that you will be able to secure all different kinds of tools and equipment safely and securely. Being easy to load and highly customisable, trays will allow you to maximise efficiency on the job and get the most out of your work vehicle.
Toolboxes
The great thing about toolboxes is that they can help you to organise your tools, keep them out of the weather and ensure they're locked up safe and secure. Tool boxes are more easily fitted to trays which is another advantage of trays over tubs. We can modify the tray sides with new locks so that you can access full lid tool boxes without having to drop down the tray sides each time. Storage and accessibility guaranteed. Toolboxes will ultimately help to increase your efficiency and accuracy on the job, leading to improved customer experiences and overall, allowing you to get the task over and done with in the quickest time possible.
Turn to Great Racks for your tool box requirements
With a wide range of tool box options on offer, Great Racks can present you with the perfect solution. As a bunch of tradies ourselves, we understand that organisation is key to being prepared for each job and so having the right tool box set up is crucial. By considering the nature of each customer's job, along with the tools and equipment they deal with daily, we can supply the perfect toolbox that promises to be their best friend on the job. Rest assured, Great Racks always ensures products are durable, long-lasting, and purpose-built. Plus, they're guaranteed to make your work vehicle look like the real deal! That's why we always cater towards our client's unique needs and requirements.
To enquire about a custom-made toolbox, contact Great Racks now!