Tips on Choosing the Right Ladder Rack for Your Commercial Vehicle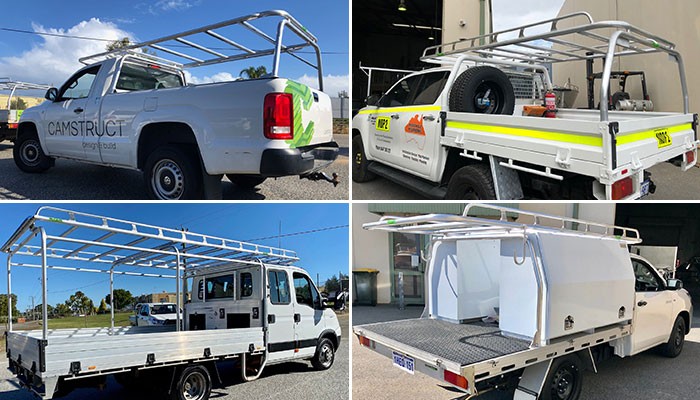 If you're looking for a new ute ladder rack but have no idea where to start, fear not – you've come to the right place.
Ask any tradie with a ladder rack, and we guarantee that they'll tell you how they can't imagine working without one now that they've experienced the difference. Ladder racks make storing long, bulky or oddly shaped tools and equipment a breeze. In fact, for a lot of tradies driving utes such as the Toyota Hilux, Ford Ranger or Holden Colorado, a ladder rack is basically a necessity. No more wedging awkward items into your vehicle and making it an uncomfortable ride. No more having unsecured equipment smashing against each other each time you turn a corner or come to a halt. Instead, you can keep all your tools, equipment and materials safely secured and organised in an easy-to-access rack. Plus, having one sure makes you look like the real deal when you rock up to clients for a job.  
One of the most important things you need to know is that not all ladder racks are created equally. Have you come across some great-looking ladder racks online? Well, if they're prefabricated or 'one size fits all', we'd strongly advise you to turn the other way and run. Fast. 
Every vehicle is different, and so are the needs of every tradie. This means that custom ladder racks are always the way to go. And in this article, we'll be telling you how to choose exactly the right one for your commercial vehicle:
Consider Your Needs
If you want to receive the best rack possible, then you need to consider your needs and requirements fully. Start with the tools, equipment and materials you deal with most often. For example, let's say you need to load your ladder rack with large sheets of material, and you need to use a forklift to do so. In this case, a ladder rack with underslung rails would be a great idea, so that you can create a platform with ample tie downs. On the other hand, you might need to park your commercial vehicle in the garage at home. In this situation, height needs to be considered, so you'd probably be better off with a ladder rack designed to sit lower on top of your vehicle. All in all, considering the demands of your trade and talking them through with a ladder rack manufacturer will help them to design you the absolute best solution possible. So, make sure you don't skimp out on any important details. 
Get Additional Accessories
Depending on your needs, add-ons may be worth looking into as well. Rear rollers are a worthwhile add-on if you want to make loading heavier items such as ladders, wood or pipes safer and easier. Another option is adding a Teflon slide to your rack, this provides full coverage so you can load up from the rear at any angle. Hooks to loop your hoses or to store your front H frame under the rack when not in use is another optional extra. Plus, we also supply and fit PVC pipe with removable caps for storage. We can make and fit a range of different brackets to suit beacon lights, rear lights, work lights, flag and an aerial. Just tell us what you want and where.
Choose a Local Manufacturer
Choosing a rack made from high quality materials is kind of a given. But that's only guaranteed if you choose to go with a reputable, local manufacturer. At Great Racks, we always build our racks using strong, durable and premium-grade materials. After all, it's the only way to ensure that your rack performs as it should, and you end up getting your money's worth. When you choose Australian-made ladder racks, you'll know that your rack has been manufactured to meet the harsh weather conditions and elements of the country. Consequently, you can expect it to last longer, serve you well over the years and you're supporting local business.  
Get Custom Ladder Racks from Great Racks
Turn your ute into the perfect commercial vehicle with a custom-made ladder rack from Great Racks. We build made-to-measure roof racks, ladder racks and canopies that guarantee to make a difference to your daily grind; after all, we're tradies ourselves, so we should know how to deliver real solutions to everyday loading and unloading problems. We always ensure to manufacture our products to a high standard. Needless to say, you can expect a ladder rack from us to deliver on all fronts and prove as an overall worthwhile investment. 
Ready to get your hands on the best roof rack possible? Call Great Racks now for a free quote!