Using your Roof Rack on your Next Travel? Don't Forget these Essential Tips!
Bringing your SUV to your next holiday getaway? If you're bringing the whole family with you, then you'd have to deal with transporting luggage and even camping equipment. There are lots of things you have to make plans for, and you should not forget to consider having a roof rack on your car for extra carrying capacity.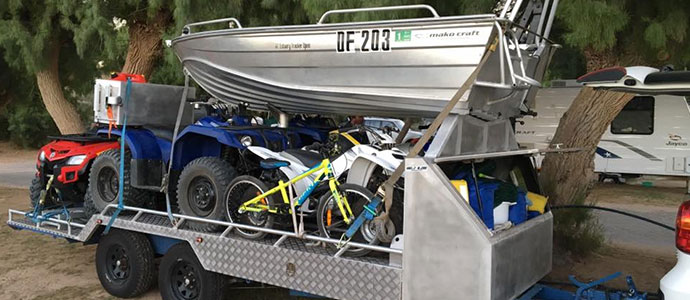 There are many benefits to having a roof rack and they include:
Increased capacity for carrying luggage

Secure storage for specialist equipment, including sporting kits

Free up interior space from heavier items

More space for passengers

Organise belongings efficiently
At Great Racks, we understand that a lot of people use roof racks not only for long drives but also for other daily transport purposes. That is why we have compiled a list of tips that will help you maximise your roof rack and avoid potential risks. Make sure you check out this guide before using your roof rack on your next holiday getaway!Follow the Weight Limits
Remember to read your car manual and find the information regarding the maximum load you can put on your roof. Roof racks typically have a higher weight rating than your car's roof. So it is essential that you check and follow the weight limits for both.

Tie Down your Cargo
If you are transporting surfboards, canoes or kayaks, remember to tie them down not only to the roof rack but also to the front and back of the car. Keep in mind that when you travel at certain speeds, these items can generate lift that can rip off the roof rack. So, it is best to ensure that the cargo is tied down properly.
To avoid incidents like these, you can turn to Great Racks and we'll customise your roof rack according to your needs. We can install a detachable Y or H bar so that you can secure bulky items when you're travelling.
Follow Speed Limits
Keep in mind that many roof rack accessories have maximum speed ratings. So, if you're mounting your own, make sure that you read the instructions carefully. If you do not follow the suggested speed limit, then you might face the same risks as mentioned in the previous point. When you exceed the speed rating, you can potentially damage your roof rack or car. So, remember to follow the speed rating we provide when we custom design and build your rack.
Steps to Using your Roof Rack
Step 1
The first thing you have to do is measure your cargo or luggage before you place it on your roof rack. If you have a cross-bar luggage rack, you have to fit the bag or box within the square that the sidebars and the cross form. If you have a roof rack without a cross bar, avoid hanging the carrier over the windshield.
Step 2
Make sure you place your items inside a durable and weatherproof bag before strapping them down. Doing so will protect your bags, luggage and other cargo from the sun, rain and other elements.
Step 3
When packing the items inside your weatherproof bag, make sure you pack the heavy items first. Also, do not place the items inside the cargo bag while it is on the ground. To avoid back and neck injuries, lay the cargo bag on your roof rack and then start loading it there.
Step 4
Do not forget to tie down your load. As we've previously mentioned, if your cargo is not properly tied down, it may cause accidents and damages. It is also worth noting that some weatherproof cargo bags come with secure straps, making it more convenient and easier to tie down your items to your roof rack.
Customised Roof Racks from Great Racks
At Great Racks, we cater to a wide range of customers. We can do this because we usually custom design and build our aluminium roof racks. When you turn to us, we will create a roof rack that is suitable to your needs and budget.
We also believe that customer satisfaction is essential in keeping our business afloat. As such, we always educate our clients about caring for their roof rack. When you choose us, we will also teach you how you can properly and securely carry your items on your rack.
When you need durable and good looking roof racks built for your vehicle and your needs, contact Great Racks today. Talk to our friendly staff and let us help you determine the ideal vehicle storage solution for your needs and budget.