When Should I Replace My Roof Rack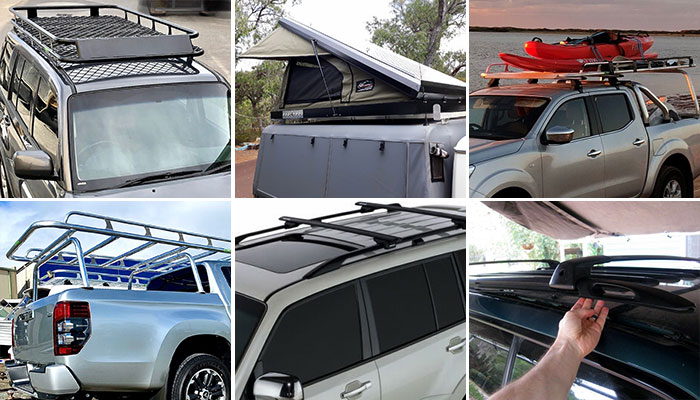 Roof racks are like a godsend for people like tradies, campers, cyclists, surfers, or pretty much anyone who has to carry around large and bulky tools and equipment a lot of the time. And if you've gone through years of having to cramp up the inside of your vehicle, hire a trailer, or run around like a headless chook trying to bring the items you needed to the right place at the right time, then you're definitely guaranteed to appreciate the convenience of these add-ons a whole lot more. But as great as roof racks are, they do come with their two major downfalls; one being that you can't just keep stacking stuff on like in a game of Tetris, and two being that they don't guarantee to last forever.
Imagine being out on the job as a tradesman and having your roof rack break on the road, causing your tools, equipment and materials to scatter out, get damaged and maybe even pose as a traffic hazard. Pretty embarrassing right? Not to mention, it could end up causing a major accident, or at the very least, throwing off your entire schedule for the day. Plus, there's also all those damaged tools and materials left to deal with. And depending on what trade you specialise in, replacing all those could end up burning a hole in your wallet for sure.
So, what exactly is the best way to prevent your roof rack from caving in when you need it most? Well, it's as simple as following the weight capacity on your roof rack, and knowing when it's time to replace your old roof rack with a new one:
Signs You Need a Roof Rack Replacement
Wear and Tear
It may be time to part ways with your old roof rack if you've had it for a really long time, or if you're starting to notice some obvious signs of wear and tear. If you've invested into a high-quality roof rack from the get-go, then chances are you would've got a solid amount of use out of your rack overall. But if you're roof rack is starting to look worn and weathered not so long after you've installed it, then you may want to think about trusting a better fabricator for the job next time around. You'd don't want to be getting ripped off with some bogus rack that can't handle the brutality of the Australian weather conditions after all.
Rust
Rust can be a tell-tale sign of neglect when it comes to roof racks, which generally starts to form when owners forget to wash their roof racks, or even if they just don't clean them properly. And rust won't just turn your roof racks downright ugly- it'll also cause them to go downhill in term of strength and performance. Plus, there's also the fact that rust tends to spread once it's formed. So, if you continue to use your roof rack even after it's started to rust, the risks of experiencing an incident could definitely be higher. Choosing an aluminium roof rack means you never have to worry about it rusting out and there's the added bonus of a lightweight, yet strong roof rack.
Signs of Overload Damage
If you've been testing the limits with your roof rack for a while, then it'll probably show through cracks and splits in the material. A roof rack with this type of damage can't be saved, so if you want to prevent your rack from going bust whilst you're out driving on the road, it's a good idea to get a replacement arranged ASAP.
A Newer Solution
Switching jobs and changing hobbies are just a part of life. But as these things change, so will your roof rack needs. So, if your old roof rack just isn't cutting it anymore, then maybe it's time for you to check out a replacement? Just smack a couple of accessories onto a custom-made design, and you'll be able to make your new roof rack much more suited towards your specific needs!
If it's high time for a roof rack replacement, but you're unsure of who to turn to, then you'll be glad to have come across us here at Great Racks. We love making roof racks just as much as you love using them, and we always guarantee to build our client's roof racks tough, good-looking, and perfect for their individual needs. If you're in need of something extra, we also specialise in fabricating ute ladder racks, custom canopies, and offering a number of different accessories. So, if you're keen on getting the perfect match to fit with your vehicle, give us a call at Great Racks today!